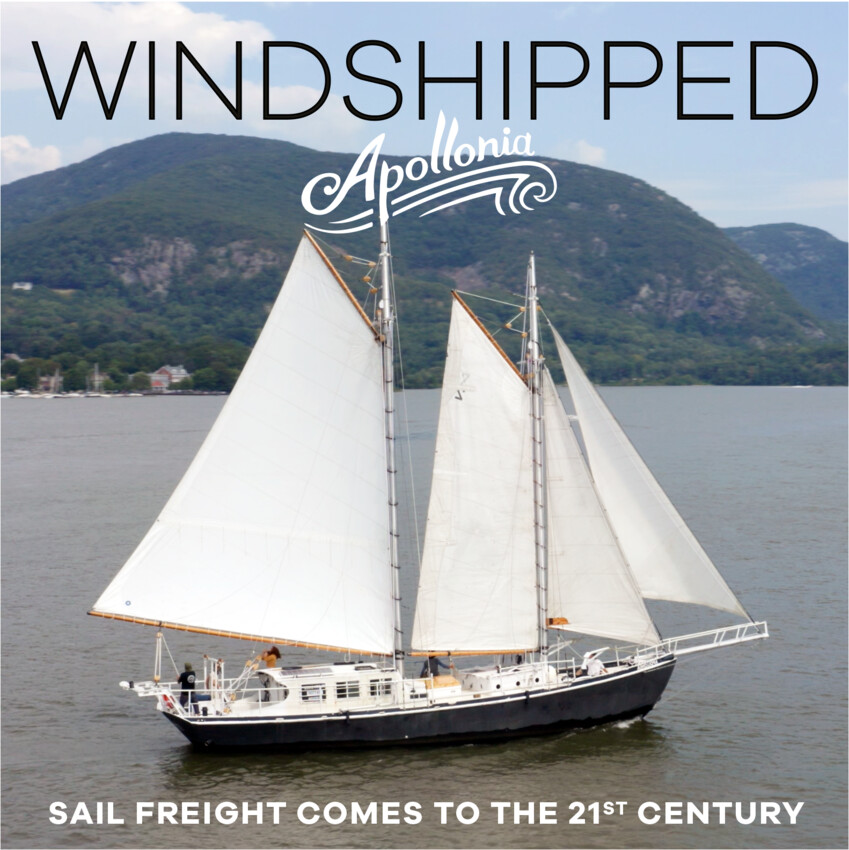 Stone Ridge filmmaker Jon Bowermaster will screen two new environmental documentaries, "Windshipped" and "One Dam at a Time," 7 p.m. Wednesday, March 29 at the Rosendale Theatre, 408 Main St., Rosendale. He will be joined by Dr. George Jackman, Riverkeeper's Senior Habitat Restoration Manager and star of "One Dam at a Time." Matt Kovner, Town of Olive Environmental Conservation Commission and Third Thursday Environmental Series organizer will moderate the after-film discussion. The event is presented through the Rosendale Theatre's Science on Screen® series.
"Windshipped" (2022) documents the rebirth of the Apollonia, a 64-foot steel bottom cargo ship built in the 1940's, as a cargo sailing ship on the Hudson River. Using sustainable energy, wind and sun, the Apollonia transports goods from the mid-Hudson area through regional ports, including Kingston and Poughkeepsie, to New York City and returns with cargo from downstate.
Filmed locally, "One Dam at a Time" (2023) features Jackman and highlights the challenges and efforts to remove old, unused dams on creeks and streams running into the Hudson River. Removing these dams restores these waterways to the aquatic life that depend on them.
Following the movies, the audience will be able to ask questions of the panel about issues raised in these films, and query Bowermaster on his career as a filmmaker and storyteller.
Bowermaster has produced and directed more than 30 documentary films and written 11 books. He is a six-time grantee of the National Geographic Expeditions Council and one of the Society's "Ocean Heroes." Over the course of 10 years, he and his teams brought back stories from the Aleutian Islands to French Polynesia. Currently, his One Ocean Media Foundation/Oceans 8 Films focuses on short films about the environmental risks to, and hopes for, the Hudson River Valley.
After retiring from the New York City Police Department as a lieutenant, Jackman earned his PhD in ecology, evolution, and behavior from the CUNY Graduate Center in conjunction with SUNY. He currently works on dam removal in the Hudson Valley and teaches as an adjunct professor at Queens College. Jackman's research focuses on migratory fish.
This program is organized by members of the Third Thursday Environmental Series and receives major funding from Science on Screen®. Additional support comes from Riverkeeper and Sustainable Hudson Valley.
Science on Screen® is an initiative of the Coolidge Corner Theatre, with major support from the Alfred P. Sloan Foundation. Only 40 competitive Science on Screen® grants were awarded nationwide in 2022-2023. This is the fourth year that the Rosendale Theatre Collective has been granted funding for this program.
Third Thursday Series is a program of free, online events, organized by members of the Gardiner, Marbletown, Rochester and Olive Environmental Conservation Commissions. Each month, every third Thursday, the series presents a free, online program on an environmental topic of general interest to residents of Ulster County. Subscribe with an email to thirdthursdayseries@gmail.com.
Riverkeeper is a nonprofit environmental organization (riverkeeper.org) dedicated to the protection of the Hudson River and its tributaries, as well as the watersheds that provide New York City with its drinking water.
Sustainable Hudson Valley's mission is to speed up, scale up, jazz up and leverage progress against climate change, creating communities where people and nature thrive. Learn more at sustainhv.org.
The Rosendale Theatre Collective operates the historic Rosendale Theatre using the power of film and live performance to entertain, educate and inspire connection.
Tickets for the two screenings and Q&A are $10/$6 members. Although not mandatory, the wearing of masks is encouraged. For more information, visit rosendaletheatre.org or call 845-658-8989.